By Katarína Klingová
Many see the election of Zuzana Čaputová to the Slovak presidency as a hopeful sign for Central European politics. A lawyer and activist for anti-corruption and environmental causes, Čaputová received more than 40 percent of the vote in the first round of the election; second-place finisher Maroš Šefčovič drew just under 19 percent. Ultimately, Čaputová won the second round with 58.4 percent of the vote—an historic victory in an election that was noteworthy in part for the widespread use of disinformation. In a country of less than six million people, a little bit of disinformation goes a long way.
GLOBSEC's monitoring of the most influential disinformation outlets on Facebook observed a smear campaign targeting Zuzana Čaputová and overwhelming support for Štefan Harabin—a judge on the Slovak Supreme Court and a former Minister of Justice known for publishing pro-Kremlin disinformation on his blog, YouTube channel, and regular radio broadcast. GLOBSEC's research and independent reporting suggest ties between Slovak and Russian disinformation outlets, and it is common for Russian disinformation to support particular candidates or political parties in order to influence and subvert a country's democratic processes, domestic politics, or geopolitical orientation.
While there is no proof of a direct financial connection between Slovak disinformation outlets and the Kremlin, hints of such ties are visible. For example, one of the leading authors of Hlavné Správy (Main News) is a Russian citizen with ties to Russian state media outlets RT and Sputnik; for several years, he has also published pro-Kremlin narratives under a Slovak pseudonym. The editor-in-chief and co-founder of the notorious disinformation outlet Zem a Vek (Earth and Age) is known for his connections with Russian diplomatic representatives. In a 2014 recording, he was documented asking Russia's ambassador to Slovakia for financial support.
Several candidates were also observed spreading false information and conspiracy theories. Of these, the most popular was Štefan Harabin, the aforementioned judge whose media presence has made him one of the most influential and active purveyors of disinformation in Slovakia. Another was Marián Kotleba, the chairman of a far-right extremist political party; his platform appealed to anti-system views and he has openly promoted anti-American, anti-European Union, and pro-Kremlin narratives.  While these two candidates were ultimately defeated, they gained a combined 25 percent of the vote in the first round of the election—indicating that a significant portion of Slovaks feel detached from mainstream political parties.
The map below (generated by an application called Netvizz, which allows users to extract data from Facebook) shows in detail the relationships between the fourteen disinformation outlets' pages in GLOBSEC's sample and other pages on Facebook. The lines between nodes show that the administrator of a page "liked" content from another page, and the size of a node indicates the frequency with which a page posts to Facebook. Tellingly, this analysis shows that RT and Sputnik maintain an active Facebook presence and received frequent engagement from other disinformation outlet pages (especially Slobodný vysielač, or "Free Transmitter"):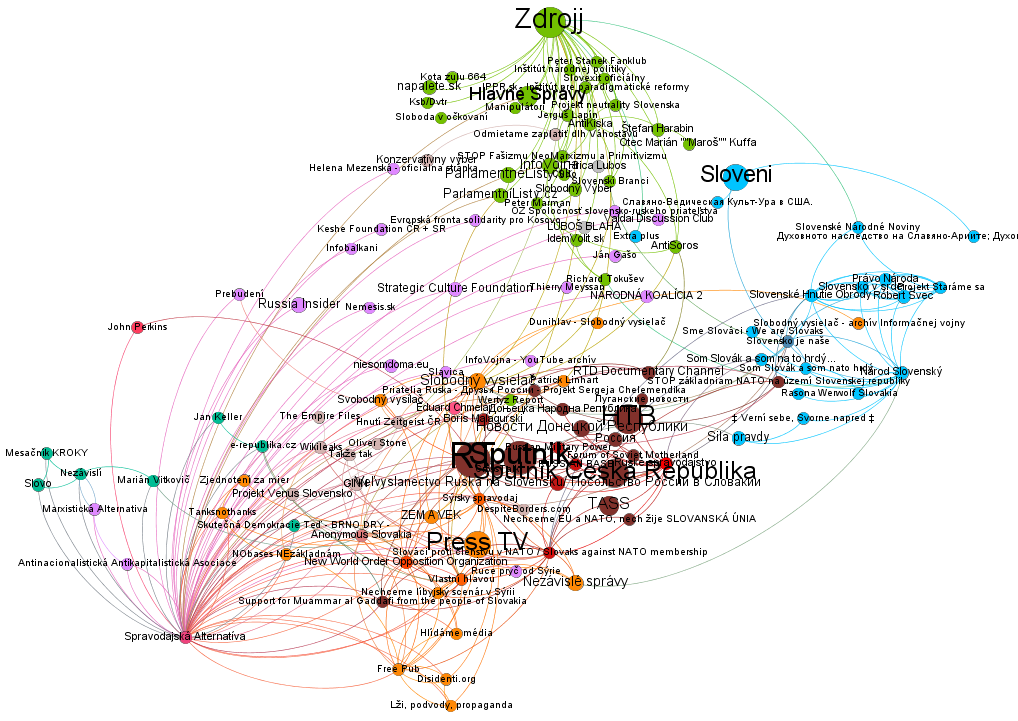 This networked disinformation played an important role in the Slovak presidential campaign. The Facebook pages monitored by GLOBSEC published a great deal of content promoting Harabin's candidacy. The overwhelming majority of those posts contained positive sentiment and were supportive of Harabin, while Čaputová was the main target of negative posts favoring Harabin, who presented himself as a true anti-system candidate. In the charts below, GLOBSEC shows how the portrayal of Harabin and Čaputová on the analyzed pages shifted over time:
Analyzed Facebook Pages' Perceptions of Zuzana Čaputová and Štefan Harabin from January 10 – April 3, 2019.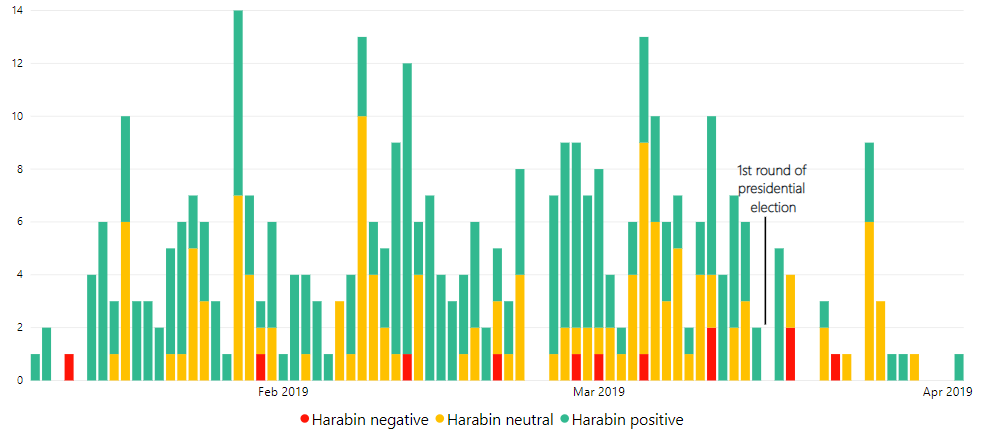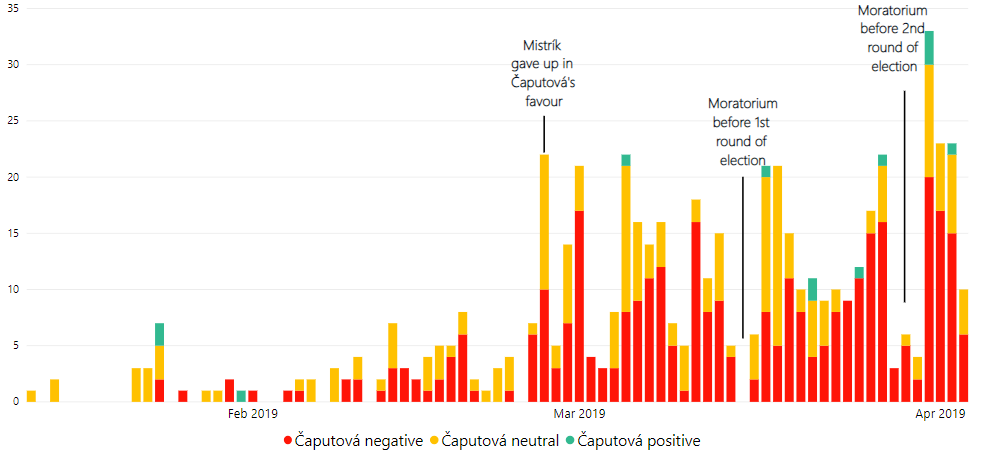 As reflected in the charts above, the rise of smear campaigns against Čaputová became obvious after center-right candidate Robert Mistrík left the contest and endorsed her candidacy. While the disinformation levied against her varied by topic, it often played on deep-rooted prejudice against migrants, the LGBTI community, and women; it also drew on popular belief in anti-Semitic conspiracy theories. Čaputová was labelled an "unknown girl who is a product of PR companies"; she was also depicted as a product of influential donors and NGOs funded from abroad by, among others, George Soros (a frequent subject of anti-Semitic conspiracy theories).
Unfortunately, some of these narratives were adopted and further disseminated by others, including several members of parliament and the ruling coalition. Disinformation outlets also implied that Čaputová's acceptance of the Goldman Environmental Prize was somehow connected to her entry into politics. Zem a vek played directly to anti-Semitic tropes by publishing a manipulated picture in which the shape of Čaputová's nose had been deliberately altered.
GLOBSEC's research observed Slovak disinformation outlets following the practices of the Kremlin's propaganda machinery. They promoted a preferred candidate alongside several false and distorting narratives, including some that centered on "election interference" via "manipulated media," as well as financial groups and NGOs funded from abroad (particularly from the United States). They used these narratives to discredit liberal presidential candidates and to undermine Slovak citizens' trust in the electoral process. By priming audiences for the eventuality that their preferred candidate would not succeed, disinformation outlets prompted them to question the integrity of the democratic process, thereby undermining the authenticity of the new president-elect's mandate.
Katarina Klingová is a senior research fellow at GLOBSEC, a global think-tank based in Bratislava, Slovakia that is committed to enhancing security, prosperity and sustainability in Europe and throughout the world. Follow her on Twitter at @kateklingova.
The views expressed in this post represent the opinions and analysis of the author and do not necessarily reflect those of the National Endowment for Democracy or its staff.
Image Credit: Aleks_Shutter / Shutterstock